Huh–the Vet is being imploded tomorrow.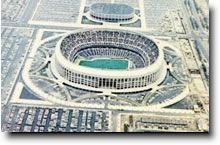 (At least the Spectrum is still intact, the site of legendary rock concerts–you can see it behind the Vet in the pic above)
I'm in Philly tomorrow, so I could conceivably see this. Do I want to? I remember when it was built, so I'm mildly interested. I also feel a mild wave of apathy about it, though. It would be cool to see such a large structure imploded.
I predict that the charges will go off and nothing will happen. They'll have to tear it apart with crow bars and pickaxes.